Tim Burton's World of Stainboy
La recensione della settimana scorsa sulla sposa cadavere di Tim Burton mi ha fatto tornare in mente una delle opere più puramente Burtoniane che si possano trovare in giro. Forse molti conoscono il libro di filastrocche dell'orrore "The Melancholy Death of Oyster Boy & Other Stories" (in italiano "La malinconica morte del ragazzo ostrica", ma ovviamente essendo delle filastrocche non ha nessun senso leggersi la versione italiana). In questo libro vengono presentati dei personaggi (con splendidi disegni) nati dalla fantasia malata del caro Burton. Un esempio:
Stick Boy liked Match Girl,
He liked her a lot.
He liked her cute figure,
he thought she was hot.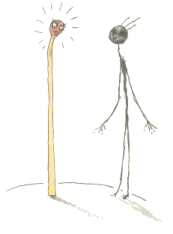 But could a flame ever burn
for a match and a stick?
It did quite literally;
he burned up quick.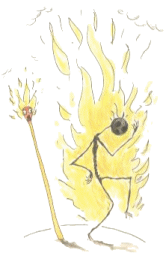 Quello che forse non tutti i lettori di questo libretto conoscono è invece la serie di corti da esso tratto: "The world of Stainboy", scritto e diretto ovviamente da Tim Burton e animato dal Flinch Studio. Sono sei episodi, sei piccole parodie del mondo dei supereroi con superproblemi in cui il nostro piccolo e unto emo-amico Stainboy si trova a fronteggiare alcuni degli altri personaggi che lo accompagnano nel libro. Il mio preferito è decisamente questo che vi mostro, Stain Boy vs Staring Girl ("La Bambina che guarda").
Tra l'altro non riesco a non notare una certa somiglianza di stile con gli emo-pupazzi tenerissimi* creati da Jeff Thomas: Pon e Zi.
Saluti,
Michele
* Sia ben chiaro che FiveObstructions non approva in alcun modo nessun altro comportamento emo. E' altresì impegnato nella campagna "Diamo agli emo quello che vogliono: una morte lenta e dolorosa". Per la sottoscrizione di firme potete scriverci una mail.